Fenomenon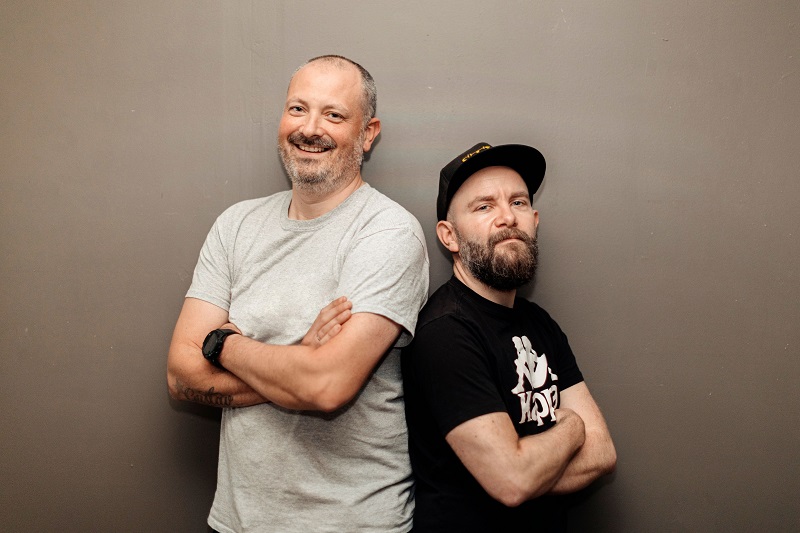 Fenomenon, originally consisting of Kjetil Ingebretsen and Håvard Rosenberg, hails from Stavanger on the west coast of Norway. In 2000, they signed with London label Nuphonic, and released two critically acclaimed EP's, making Fenomenon a household name in the international nujazz/downbeat scene. Their debut album for Beatservice Records, Hourglass, featured a new side of Fenomenon, with it's electronica oriented broken beats, while the second album In Stereo leaned more towards the soul/funky side. The tracks from the debut EP's was then finally compiled into the Pacific Memories album. After three years with three albums on a row, things suddenly turned quiet from the Fenomenon camp.
4 years in the making, the new Fenomenon album is now finally ready to see the light of day. The duo turned trio, with the addition of drummer/producer Ruben Dalen, has spent what seems like a decade in the studio writing and refining the self titled album. The ultimate goal was to create a feel and a mix of the two vibes Fenomenon is; movie inspired scores and pop/electronica.
"The process has been completely different this time. We have actually sat down and wrote better part of the songs before recording them. Before we used to start with a groove Håvard came up with" says Kjetil.
"Another twist this time is that we made a bunch of songs and picked the best ones for the album. Earlier we would have worked ideas till they made the album and not having any to spare. Some songs on the album are also a result of different parts of different songs put together and refined" Håvard adds.
// Spotify // iTunes // Tidal //
Discography
Pacific Memories 12" (Nuphonic 2000)
visjon.nord EP 12" (Nuphonic 2002)
Lucy Said 12" (Hi Fi Terapi 2003)
BS075 Time 12" (Beatservice Records 2004)
BS075CD Time CD-single (Beatservice Records 2004)
BS076CD Trouble Takes Flight (featuring Thomas Dybdahl) CD-single (Beatservice Records 2004)
BS077CD Hourglass CD (Beatservice Records 2004)
BS091CD Slow Steady CD-single (Beatservice Records 2005)
BS092CD In Stereo CD (Beatservice Records 2005)
BS092EP In Stereo EP 12" (Beatservice Records 2005)
BS094CD Pacific Memories: the early tapes CD (Beatservice Records 2006)
BS132CD Fenomenon CD (Beatservice Records 2011)
BS134 Ambitious Man Digital Single (Beatservice Records 2011)
compilation contributions
ClubQuart 00 DCD (Tuba Records 2000)
Fenomenon: From Inside
DrumRhythmNuphonic Soundcheck DCD (PIAS Germany 2000)
Fenomenon: Pacific Memories / Fenomenon: Pacific Memories
Nuphonic 03 CD / LP (Nuphonic 2000)
Fenomenon: Out Of Control
Test Three DCD (Nova Records 2000)
Fenomenon: Out Of Control
Chill:in Volume 4 DCD (Kickin Records 2001)
Fenomenon: Solara
Le Café Abstrait Volume 2 - Relaxation Is Total Peace CD (Jubilee Records 2001)
Fenomenon: Pacific Memories
OM Lounge 5 CD / LP (OM Records 2001)
Fenomenon: Pacific Memories
Private Lounge DCD (Apricot Records 2001)
Fenomenon: Pacific Memories
Sounds From The City CD (Choice Productions 2001)
Fenomenon: Solara
Tokijo 002 12" (Tokijo 2001)
Fenomenon: Solara (butti's soleie pleie)
Undiscovered Ibiza 3 CD (Undiscovered 2001)
Fenomenon: Pacific Memories
Viva Ibiza Chill CD (Mixmag 2001)
Fenomenon: Pacific Memories
Winter Chill 3 DCD (Hed Kandi 2001)
Fenomenon: Awake
Before L'Apericlub CD (Bar De Lune 2002)
Fenomenon: Solara
Carte Blanche 3 CD / LP (Naked Music 2002)
Fenomenon: Romero Avenue
Electrochill CD (Surge Recordings 2002)
Fenomenon: Out Of Control
Es Vive Ibiza DCD (Base Ibiza Records 2002)
Fenomenon: Can't They Be Good
Naked Music Presents Carte Blanche 3 CD (Astralwerks 2002)
Fenomenon: Romero Avenue
Nordic Exposure - A Global Journey Into Scandinavian Nu Jazz CD (Quango 2002)
Fenomenon: Solara
Real Ibiza 5: The Sun Lounge CD / DCD / 3xLP (React 2002)
Fenomenon: Pacific Memories
The Sound Of The Cosmos 3xCD (Hooj Choons 2002)
Fenomenon: Pacific Memories
This Is Not A Soundclash CD (Nuphonic 2002)
Fenomenon: Out Of Control
Way Out North CD (Atomic Agency 2003)
Fenomenon: Hypersleep
Audio Nova 01# DCD (More Music and Media 2004)
Fenomenon: Time (radio edit)*
Deluxe II – For Your Pleasure - Finest Moments in Modern Lou CD (United/Disque Deluxe 2004)
Fenomenon: Hypersleep
La Voile Rouge CD (Happy Music 2004)
Fenomenon: Hypersleep
Beatservice Jukebox - best of beatservice records (BS080DCD) DCD (Beatservice Records 2004)
Fenomenon: Lucy Said
Norway Now - Electronica promo CD (Music Export Norway 2004)
Fenomenon: Time
/ Fenomenon: Time (ernesto's emotional memory remix)
Beatservice Radio 2004 (BS084CD) CD-EP (Beatservice Records 2004)
Fenomenon: Trouble Takes Flight (radio edit)
Blossom CD (Disque Deluxe/United 2005)
Fenomenon: Sleepy Meadows Of Buxton
Café Karma DCD (Parklane Recordings 2005)
Fenomenon: Time (ernesto emotional memory remix)
Cafe Solaire 8 - Ethno Moods & Deep Cool DCD (Soulstar Records 2005)
Fenomenon: Hypersleep / Fenomenon: Space Continuum
Reuge Remixed CD (Muve Recordings 2005)
Fenomenon: The B-minor Suite / Clair de Lune (aeravia mix) / Fenomenon: Melodien Von Händel (clifton vegas mix)
Prima Norsk 3 - the space disco EP (BS078) 12" (Beatservice Records 2005)
Fenomenon: Time (lindstrom remix)
Prima Norsk 3 - the space disco edition (BS078CD) CD (Beatservice Records 2005)
Fenomenon: Time (lindstrom remix)
Beatservice Video Jukebox - best of beatservice music videos 1994-2004 (BS080DVD) DVD (Beatservice Records 2006)
Fenomenon: Lucy Said / Fenomenon: Time
/ Fenomenon: Trouble Takes Flight
Best Of Lounge Music Vol 3 CD (Electric Lounge 2006)
Fenomenon: Pacific Memories
Holmes Place - Body Balance No. 1 CD (Cool Logistic 2006)
Fenomenon: Daytime TV
Norway Electronica 2. edition CD (Music Export Norway 2006)
Fenomenon: Slow Steady
Serve Chilled: A Return To The Brighter Side Of Chill DCD (Hed Kandi Records 2006)
Fenomenon: Pacific Memories
The Trip 2 DCD (Family Recordings 2006)
Fenomenon: Sleepy Meadows Of Muxton
Chilled 1991-2008 3CD (Ministry Of Sound 2008)
Fenomenon: Sleepy Meadows Of Buxton
Renaissance 3D: Tom Mittleton DCD (Renaissance 2008)
Fenomenon: Out Of Control
Sunset Cafe 5 - EUthentic Gallery CD (Night People Productions 2008)
Fenomenon: Calming Park (The Lushlife Project Remix)
Uncovered DCD (Ministry Of Sound 2009)
Fenomenon: Everybody Wants To Rule The World
ArchiPOP#1 (BS160) Digital Album (Beatservice Records 2015)
Fenomenon: Hypersleep
Remixes
Arvid featuring Ernestos: Try (fenomenon remix)
on Bare Essentials CD (Naked Music/Astralwerks 2002)

Butti 49: Allan Accellerates (fenomenon snowjogg 87 remix)
on Allan Accellerates 12" (Hi Fi Terapi 2003)

Cique Du Soleil: El Pendulo (fenomenon northern comfort mix)
on Varekai CD (BMG)